Lightweight electric folding bikes are cropping up on city streets, trains, buses, offices, and apartment halls for a good reason. It's difficult to beat the practicality of a bike that folds up to fit under your desk-while simultaneously making your journey faster and less tiring. More and more manufacturers are racing to develop the perfect mini-commuter machine.
What is a Light Folding Ebike?
A lightweight folding electric bicycle, as the name implies, is a lightweight bike with a motor that has been built to fold into a compact size, making it perfect for transport and storage. Folding bikes include a hinge and clamp mechanism in the center of the frame that allows the frame to be bent in half. Some folding bikes additionally include a folding tiller, allowing for even smaller folded dimensions.
A folding bike becomes as rigid as a regular bike when you unfold it and engage the locking mechanism. These bikes include all of the components found on a traditional ebike, such as a geared drive train, brakes, pedals, etc. When folded, the bike is easier to move into offices and public transport. You can also store them in small living quarters or inside a car, boat, truck, RV, or even an airplane.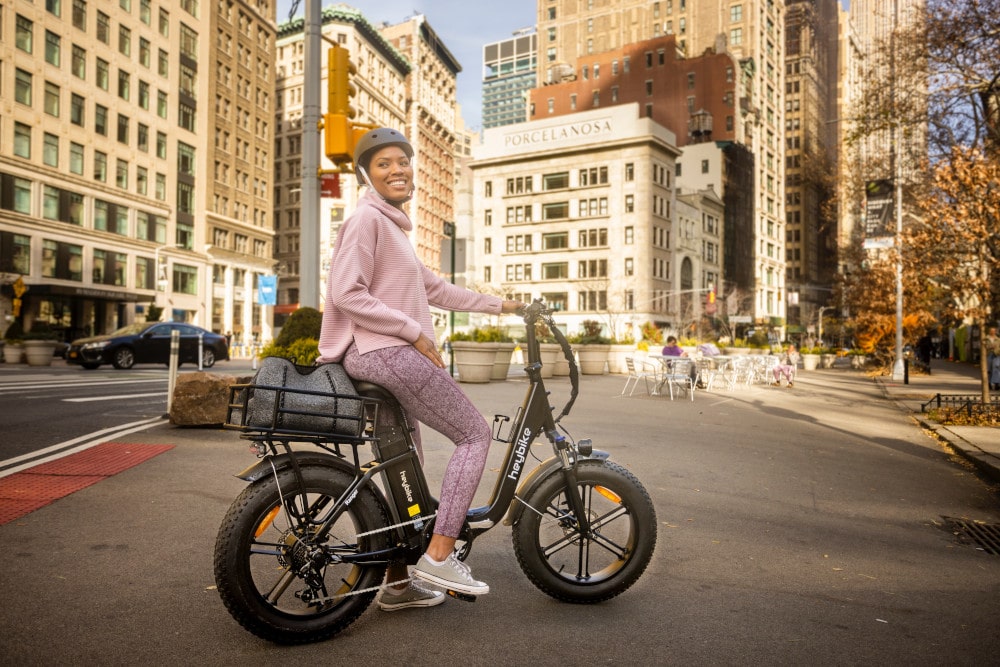 Different Types of Folding Ebikes?
There are four different kinds of foldable ebikes.
1. Mid-Drive Ebike – This type of drivetrain is commonly found on mid/high-end bicycles. A mid-drive motor is located directly in the center of the ebike, near the bottom bracket area. In essence, it is housed within the cranks (the arms to which the pedals are attached) and directly drives the mechanical powertrain – As a result, the weight is more evenly distributed due to the low center of gravity and smooth torque transfer.
2. Hub-drive Ebike – Hub drives are less expensive to manufacture. On the other hand, a hub motor lies inside the front or rear wheel hub. While it functions similarly, it might feel very different to the rider. It may take some time to adjust to the center of gravity compared to riding a regular bicycle. Nonetheless, this is a fantastic choice for commuting and daily use.
3. Fat tire Ebike – These ebikes offer Improved comfort and multi-surface riding. Wheels are typically 20 inches in diameter and 3 to 4 inches wide. When it comes to cornering, fat tires on electric bikes have proven to have a better grip on all types of terrain. This allows you to hit the turns at fast speeds while remaining balanced. The lean angles are larger, and the overall maneuverability of the ebike is better.
 4. Skinny tire Ebike – This type of ebike is faster and smooth on paved roads and provides higher mileage due to less friction. For daily commuting, electric bikes with thin tires are great since they allow you to go from point A to point B instantly. Ebikes with narrow tires can save weight by eliminating the need for bulky chassis and huge suspension, making them more maneuverable and faster.
---
See also: 3 Examples of How an Ebike can Improve Your Life
And: How Ebikes Work and Why They're an Essential Part of the Cycling World
---
The Main Benefits of a Light Folding Ebike
Purchasing a lightweight folding ebike has significant health and economic benefits. And as a result of these advantages, sales of light foldable ebikes are increasing. Many commuters are opting for and investing in a lightweight foldable ebike for the following reasons.
1. Easily fit inside your vehicle – Ebikes that fold up aren't just for buses and subways. You may save some commuting time (and even money on parking) by driving part of the way, then parking and retrieving your foldable bike from the trunk for the remainder of your journey through congested traffic. This is excellent for more than simply commuting to work. You may have a nice day out by ebike without having to install bike racks in your car or go shopping.
2. Easy to store – Whether at home, the office, or the gym, it will go unnoticed if your ebike folds up tiny enough. You can store it in a large locker or beneath your desk when you're not using it, and then in a hallway or cupboard when you get home. These take up far less space than a standard bike, making them ideal for most houses.
3. Lightweight and simple to use – These ebikes are also good for bike trips with your pals. A lightweight foldable ebike is so light and easy to maneuver that you'll have no trouble getting back and forth on it. There is also not much of a learning curve. The majority of these ebikes are built using the most basic of designs. They are intended to be simple to use.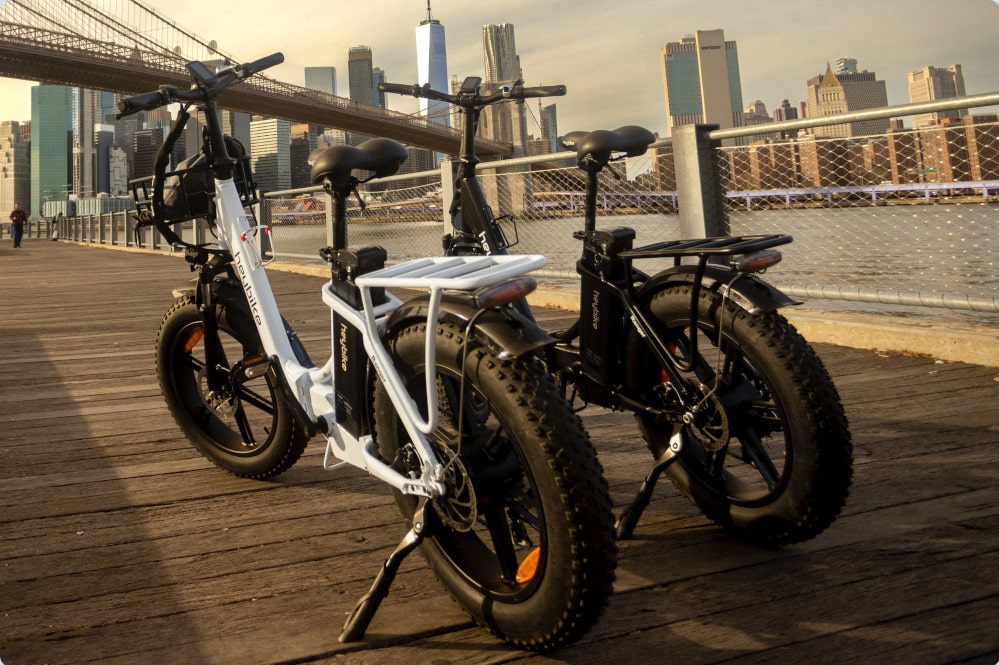 4. Adjustable to accommodate different heights – These electric bicycles may also be altered to accommodate your height. Telescoping handlebars are available on some models. You can set the ebike's height to whatever level is most comfortable for you. You can also lengthen the bike, allowing you a little more mobility when you aren't traveling very far with it.
5. Economical – A compact, lightweight folding ebike not only saves you time but also money. You won't be able to take a standing bike on most buses or trains, and you'll have to rely on cabs or Uber for public transportation. However, you will undoubtedly be able to carry a small-weight ebike aboard, saving you money on transportation.
6. Assistive cycling – Battery-powered "pedal-assist" is what foldable ebikes offer. Technically, this is a pedal-assist device built into the bike. With a foldable ebike, riders of all ages and fitness levels may enjoy a smooth and extended ride. A longer journey provides an opportunity to take in more scenery and stops along the way, for shopping or lunch.
Is Commuting Easy with a Light Folding Ebike?
If you're in the market for a bike that can transform your daily commute, look no further than getting a lightweight folding electric bike on the market today.
There are many uses for foldable ebikes, and they aren't just limited to commuting to and from the office. It's easy to accelerate and maneuver on their little wheels, so they're perfect for traveling around town, on narrow bike lanes, and everywhere else you want to go. You can also carry it inside when you get to your destination, rather than securing it to a fence or bike rack where it's out of sight.
Conclusion
There you have it: all you need to know about buying an electric folding bike. The folding ebike market is booming! They're currently extremely well-liked all across the world. And there's a good explanation for that. Using one has numerous advantages. However, not all of them are created equal. Understanding which foldable electric bike is most suited to your commuting needs is critical. Before you invest substantial money in any product, it is best to extensively complete your lightweight foldable electric bike research. Hopefully, this article has provided you with a great deal of the knowledge you require.
13 Jan 2022