Most people have to work hard all their lives before they can leave the factory, or the warehouse, or the office for the last time. Some people devote most of their working life to their job or career, and do very little else in the way of hobbies or activities outside of their job. Their working life has been their sole source of exercise and now that it's over, what can they do?
If you have just recently retired, there is a very real possibility that you've put on some weight, sit around the house too much, and have even started watching day-time tv. Sad as that seems, many people who have spent a great deal of their time at their occupation, and now find it over, are at a loss as to what to do to fill their day.
It can take a while before you find a new interest to occupy your time. It may be a case of trial and error until you find something fulfilling to fill your day. But, as each day goes by, with very little in the way of physical activity, your weight may increase and your health may deteriorate, little by little. If your sole source of physical activity in the past was your work, and now it is over, you may find you are doing very little in the way of positive physical exercise at all now.
Some Physical Exercise is the Key
You may have some exercise keeping active with the grandchildren in the garden or park, or some social activities like walking, and may have even joined a gym. At retirement age though, you may not want to exert yourself too much in the way of physical activity. Too much strenuous exercise may in fact be detrimental to your health.
What you want is something that is easy, enjoyable, and keeps you fit and exercised in a way that doesn't physically wear you out. An ebike is the ideal solution for this, an ebike, or electric bicycle, is a bike with an added battery pack and motor that assists you as you pedal along. Unlike most other forms of exercise that require a great deal of effort, an ebike for a retiree will allow you an enjoyable pastime that does not require too much in the way of physical activity, and will not require any strenuous activity at all. With an ebike you can have regular gentle exercise, as much or as little as you want, without the pain of muscle strain.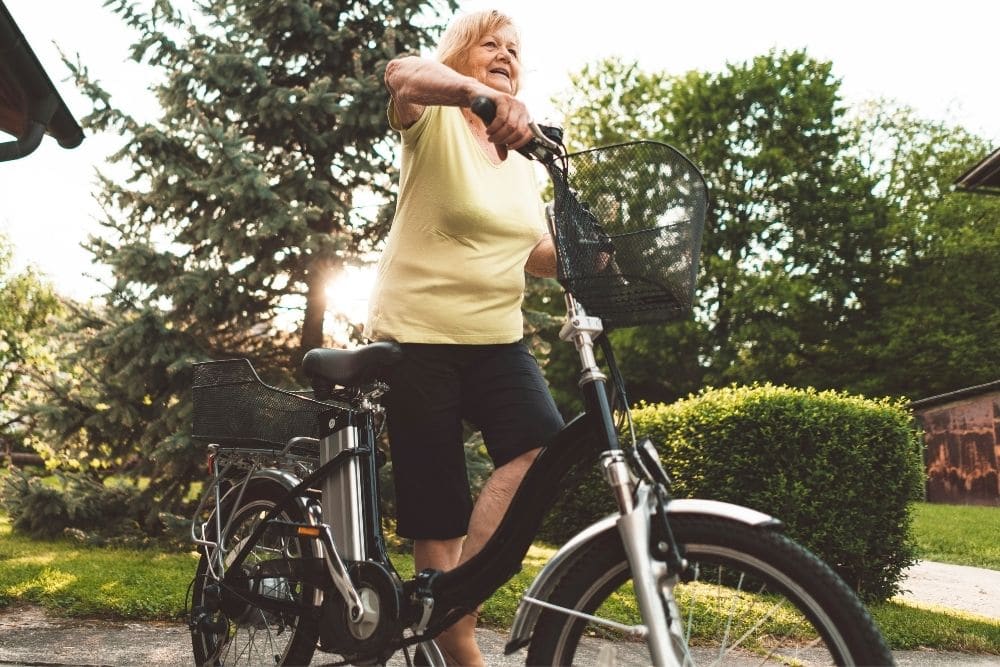 Regular Ebike Outings, a Fresh and Easy Way to Keep Fit
Whether you have never been on a bike since childhood, or used to cycle, but dropped the habit due to everyday life getting in the way, or perhaps your knees and legs don't work quite as well now as they did when you were younger. Whatever the reason why you don't cycle now, is no reason not to get an ebike and get back into the swing of it.
Cycling on a traditional bicycle can be ok across the flat, but once you start to hit some hills, at a certain age you will wear yourself out pretty quick. This is where an ebike proves its worth. Hills are no longer a challenge, you just up the assistance the battery and motor can provide, and you'll be at the top of that hill without even breaking a sweat.
---
See also: Keeping Fit on an Ebike
And:
---
Set Up an Ebike Fitness Regime
If the idea of an ebike appeals to you, or if you are not sure about spending so much on something you may soon tire of, then I suggest going along to your local ebike store and ask if you can test one out. They are manufactured in a wide variety of styles and designed for a range of different purposes. A talk with the store owner should have you trialling one appropriate for your use, and once you have tried an ebike out, I'm sure you will go on and buy one.
Once purchased, the key is to get into the habit of using it as much as possible. You are retired, you have time in your hands, so regularly using your ebike need not interfere with any other aspects of your life. Depending on your personal level of fitness and weight, you may want to consult your doctor or a personal trainer to come up with an ebike fitness regime that will suit you best. If you are fairly fit though, and just have a few pounds to lose, then why not write some exercise schedules down on paper. This can be a kick-starter back to your fighting weight and get you physically fit once more without the drudgery of forcing yourself to a gym.
An example may be:
One half-hour local ebike ride each morning, at least five mornings a week.
This will be fine to start with, but as you get used to the ebike, and begin to enjoy your morning cycle, then you could up the pace to:
One one-hour local ebike ride each morning, at least five morning a week.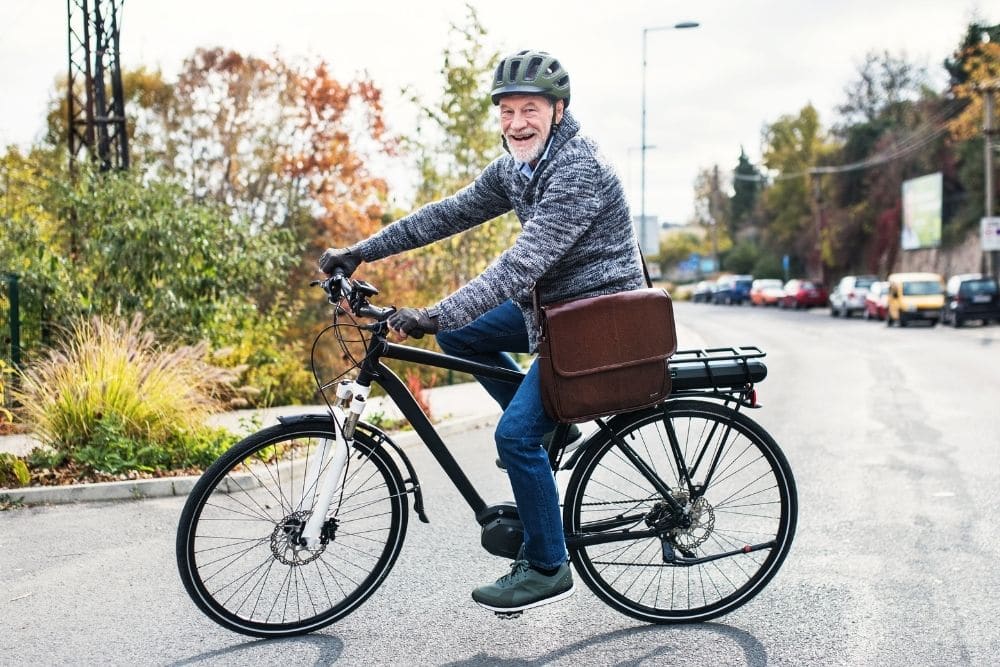 If you stick to this regime, and enjoy it, then you can add to it, perhaps adding an evening ebike jaunt several times a week to your regime. You may get in the mind-set of thinking whether you could use your ebike for a particular journey, rather than the car. As well as saving you money on fuel for the car, you are consciously changing your life-style to one of health and fitness, and environment first. I'm pretty sure if you ebike to this extent you will soon feel fitter and lose some of those excess pounds you gained since retirement.
Once you are an experienced ebike rider, then there is nothing to stop you going further and further afield, perhaps planning whole days of visiting local beauty spots or tourist destinations around your locality.
Ebike Solo or With Company
If your partner has also retired, or planning to do so soon, then why not see if you can get them involved. Ebiking solo is great for the fresh air and exercise, and giving yourself time to think about things as you cycle along. Sometimes though, it can be good to have some company. If your partner cannot, or doesn't want to use an ebike, then reach out to friends, or other retirees in the area. Maybe an ebike is something they have thought about, but did not pursue because they had no one to go along with, and did not want to ebike on their own.
Back to Fitness with an Ebike
Once you have the habit of regularly using your ebike, I'm sure it won't be long before you feel fitter and healthier than you have done for a while. The excess pounds will disappear and instead of worrying about putting weight on and getting depressed by day-time tv, you will be looking forward and planning your next adventurous excursion on your ebike.
Above all, you will have found an activity to take up some of the free time you now have since you retired, and an activity that is enjoyable, keeps you healthy, and gets you out and about in the fresh air.
01 Feb 2022