The growth in ebike sales has been phenomenal in the past few years. No doubt the global Covid pandemic has contributed to sales, but there are also many more people looking to lower their carbon footprint due to the rising worries about the climate crisis, and a great deal of older bicycle riders who find that they can continue their favourite exercise pastime if they opt for an ebike to ease their aging aching limbs as they cycle along. The appeal of electric bicycles to every demographic, in most of the countries of the world is without doubt, and the growth in ebike use is set to continue.
Where Do We Go from Here?
There are many sporting activities in the world, you just have to spend some time watching the Olympics on TV (the Japanese Olympics are ongoing as I write this), to see the range of different sporting fields. I am not saying that ebike riding may become a future Olympic sport, but it is becoming a pastime that has raised awareness in the sporting world. Step up the EBK GP (Electric Bike Grand Prix).
Are There Ebike Sporting Events?
Introducing the EBK Grand Prix Series
Along with global manufacturers and technical partners, EBK GP has created an ebike sports platform with purpose. Starting in 2022, a global competition will have ten teams competing, both male and female to become the 2022 EBK Grand Prix Champion. With equality, technology, and sustainability at the fore, the EBK Grand Prix Series will host ten events, each held in a different host city from across the world. If you are interested, more information can be found here.
EBK GP plan on using city locations from across the world.
Locations will be rewarded in their aim to create clean, green, and healthier cities with the EBK GP Beacon City Award.
EBK GP Vision:
"A world-first, technology-driven, innovative, fast and furious, criterium-style race in the heart of global cities, underpinned by a collaborative, sustainable and transformative mobility agenda."
EBK GP Mission:
"Engage communities to create cleaner, greener healthier cities via the globally collaborative EBK GP Series." (Quotes from: ebkgp.com)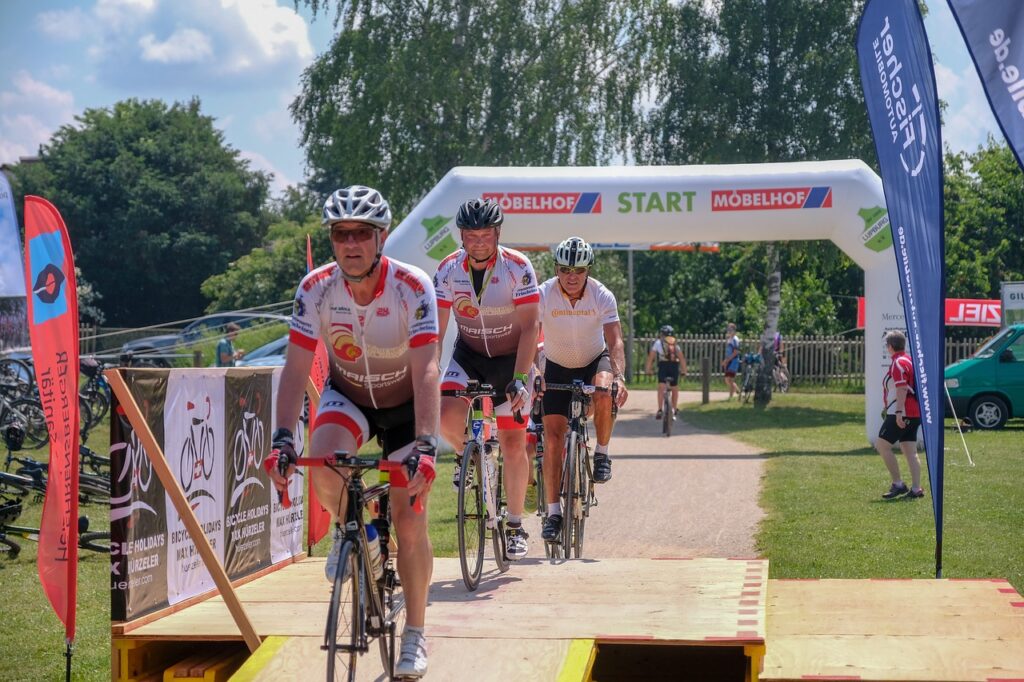 ---
See also: What is an Ebike, or an Electric Bicycle?
---
Growing Advances in Awareness of Ebikes
It is no doubt the growing use of ebikes that has created a greater awareness in the general public about what an ebike is and what it can do. More and more, you can see ebikes on the road and along the countryside. Ebikes are no longer an enigma in society, they are an integral and growing part of a new green method of transport. This is why organisations like EBK GP come into existence. It was only a matter of time. If the Grand Prix Series is a success in 2022, then who knows what will happen next? With widespread coverage the development and take up of the ebike will continue to grow. The publicity surrounding the EBK GP can only be a benefit for the advance of the ebike.
Ebike Connections to Sport
Every sport has a connection, a connection to other sports, a connection to a group of people with an interest, both competitive and fan based. Sport, in itself, being a virtue of healthy competition and fairness. These connections, and the promotion of healthy exercise, can only grow, and with the publicity of a new field of sport, a wider acceptance of the ebike will grow. No longer will the ebike be seen as cheating, as compared to a regular traditional bicycle. The stigma will be gone as a new activity in the field of sport comes into being. Life, for the ebike, is on the up.