Introduction: What is an Electric Mountain Bike?
Electric mountain bikes are a category of bicycles that combine the features and design of a mountain bike with the power and propulsion of an electric motor.
An electric mountain bike is like any other conventional bicycle, but with a battery-powered motor that provides assistance to the pedals as you ride. The motor is usually located in the bottom bracket area, near the crank arms, though it can be built into a front or rear wheel hub. When you pedal, your pedalling effort is assisted by the electric motor, meaning you use less physical exertion to move the bike. Your pedalling motion is compensated by an electrical energy that energizes the motor from the battery, and powers your ebike forward.
There Are Two Main Types of Electric Mountain Bike:
There are two common types of electric mountain bike: pedal-assist, and throttle. Pedal-assist bikes are the easiest to ride because they provide power through your pedalling. Throttle bikes require you to use a hand-held remote control, usually a twist-grip on the handlebar, similar to operating a motorcycle, to operate the motor. Throttle ebikes can work in tandem with pedal assist; you can use either, or both. A throttle is handy if you want a quick burst of speed, e.g., from a standing start, to reach a velocity faster than pedal assistance alone.
The Advantages of Using an E-Mountain Bike
E-mountain bikes are an excellent option for those who want to experience the thrill of mountain biking without getting physically drained and exhausted.
There are many reasons why people prefer to use electric mountain bikes. One of these reasons is that it is a great way to explore new trails and remote areas. You can have a lot of fun on an ebike without feeling physically challenged at the end of the day.
Another reason why people choose this type of bike is that it's a great mode of transportation, especially for those who live in urban areas where cycling alongside cars can be dangerous or simply impossible. It's also a much cheaper option than using your own car or truck, or public transit or taxi services.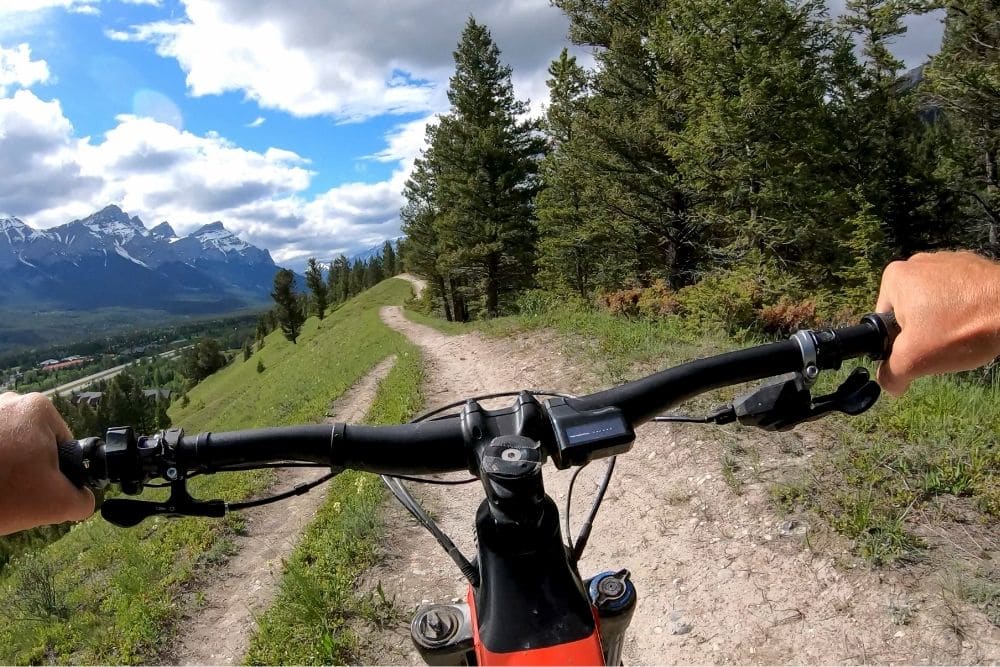 What are the Benefits of Riding an Electric Mountain Bike?
If you're looking for a way to improve your health, reduce your carbon footprint on the environment, or just have some good old-fashioned fun then an electric mountain bike may be the right option for you.
Electric Bikes Are Easy on Your Body!
Electric bikes are easy to use and easier on your body too. Riding an electric bike is a lot less strenuous on your muscles and joints because you're not arduously pedalling up a steep hill or riding through a windstorm. The motor is assisting you as you climb or battle the elements.
Electric bikes are also easier to manoeuvre than a regular bike, which means you can ride longer before getting tired. With electric bikes it's much easier to maintain the right pace while riding uphill, which means there's no need to get off your bike and push it up the hill.
There are many reasons why electric bikes are superior to regular bikes. Less strain on your body each time you take out your ebike means you are keeping fit without exerting your body to the limit. Therefore, less chance of strains and injury.
Fresh air and exercise are easy on an electric mountain bike.
Why an Electric Mountain Bike May Be the Right Choice for You?
An electric mountain bike is a bicycle that has a battery-powered electric motor in the frame, the power of the motor fitted can vary widely, though 250W to 750W are typical. They are very similar to any other ebike, but with a mountain frame and design, so are built for strength. The electric mountain bike has an assist mode, which supplies power in various ratios, and sometimes a throttle mode, depending on the make and model, which can be used separately or together.
An electric mountain bike can be used by people who want to get exercise and travel short distances without having to worry about hills or uneven terrain. It's also great for commuters looking for some exercise on their way to work and don't want to deal with traffic and parking issues. Carrying various loads on an electric mountain bike is also easy. Due to the strength of the frame, racks fitted front and back can carry a range of camping or fishing gear, or just some shopping if you have to visit the store.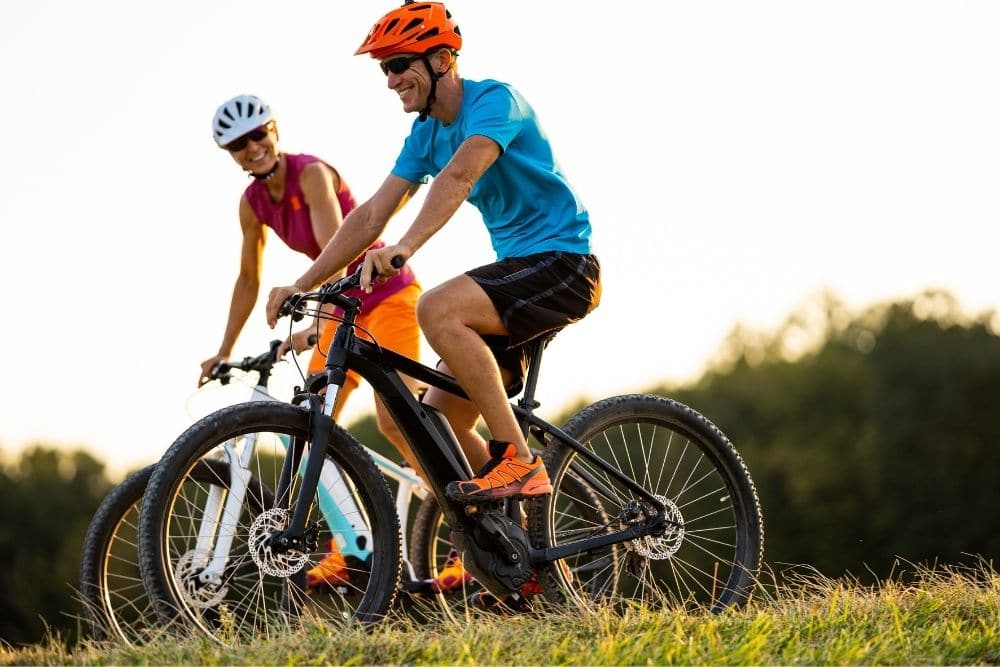 Electric mountain bikes are trending and here to stay
Electric mountain bikes are trending and here to stay. They are able to provide an opportunity for people who like to exercise but don't want the strain of climbing hills or cycling long distances on traditional bicycle. They are also great off-road, in countryside trails, and remote forest tracks.
Cycling is a great form of low-impact exercise, but not everyone wants to go through the effort of cycling physically tiring traditional bikes. An electric mountain bike gives you the workout without the pain.
---
See also: What Ebike Should I Buy
---
Explore the Country in an Electric Mountain Bike
Exploring in an electric mountain bike is easy. Pick a location to visit; a national park, or forest, or even a remote seashore location. Affix your ebike to a suitable carrier on your vehicle, then take off. Once you arrive, plan your route, check your ebike over, then off you go.
With a suitable rack fitted to your ebike, you can carry all the camping gear you need and be at one with nature for as long as you want.
The country is made of many natural landscapes, people and cultures. The electric mountain bike can get you to places a traditional bicycle cannot, and get you there with energy left to enjoy your visit. With an electric mountain bike, you can explore different places with ease.
Conclusion: There's Never Been a Better Time to Buy an Electric Mountain Bike.
With an Electric Mountain Bike, you are not just getting a new toy, you are getting a new lifestyle. The electric mountain bike provides more safety, more efficiency and less hassle. It is the ultimate form of green transportation for all kinds of terrain.
Electric mountain bikes are available in a wide range of styles and motor options. Whether you're looking for an ebike that can take on steep terrain or one that's more budget-friendly, there's an electric mountain bike for everyone.
09 Nov 2021