So, you decided you want a bicycle, and having made that decision, you furthermore decided to opt for an electric bicycle, an ebike. Now that you have made your choice to buy an ebike, confusion has muddled your thought processes once more, for there is so much more decision making to confront on your eventual choice of ebike. It seems there is an ebike type for every possible scenario you can imagine riding an ebike for. What does it all mean, and how do you make a final choice? How do you choose an ebike that is right for you?
What Do You Want Your Ebike to Do?
An ebike is a traditional bicycle with electric power. Just as traditional bicycles come in a range of designs and specialist functionality, to suit different riders and their uses, it is not so difficult to understand that ebikes will similarly offer equivalent diverse functionality, tailored to the specific use that the rider desires from the design they choose. In-other-words, ensure what you want the ebike to do will suit the purpose that you want to use if for. Simples.
Think About Your Ebike Use
Whatever the salesman at your local ebike dealer tells you, no ebike will cover all the bases. Certain ebikes will function well in particular tasks, and some will be suitable for a variety of uses, but none will do everything well. A light-framed folding ebike may be great for a commute to and from the station, but will not do great off-road halfway up a mountain, or carry a good deal of parcels across the city. Better to have opted for a cargo ebike, or a mountain ebike if such particular use is the case.
First Use Priority
Decide your first use priority, what you will use the ebike most of the time for, then second priority, then third. For example, if you want a road ebike for commuting to work and back, but also want to tour, perhaps off-road, on occasional weekends, then opt for a model suitable to do both of these tasks. No ebike will do everything, but most will be of use in several categories.
Age, Fitness, and Design
Age and fitness are considerations, as well as design of ebike. Ease of use and storage of the ebike are also considerations. How old you are and how physically able are important. You do not want to stress out your aging muscles and bones when gentle exercise is what you intend. If you want to just get on the ebike and go, you do not want to require a PhD in Electronic Engineering before you can understand the controls and motor and engage it to work. You also don't want to have to haul a particularly heavy frame and motor up three flights of stairs if you live in flatted accommodation.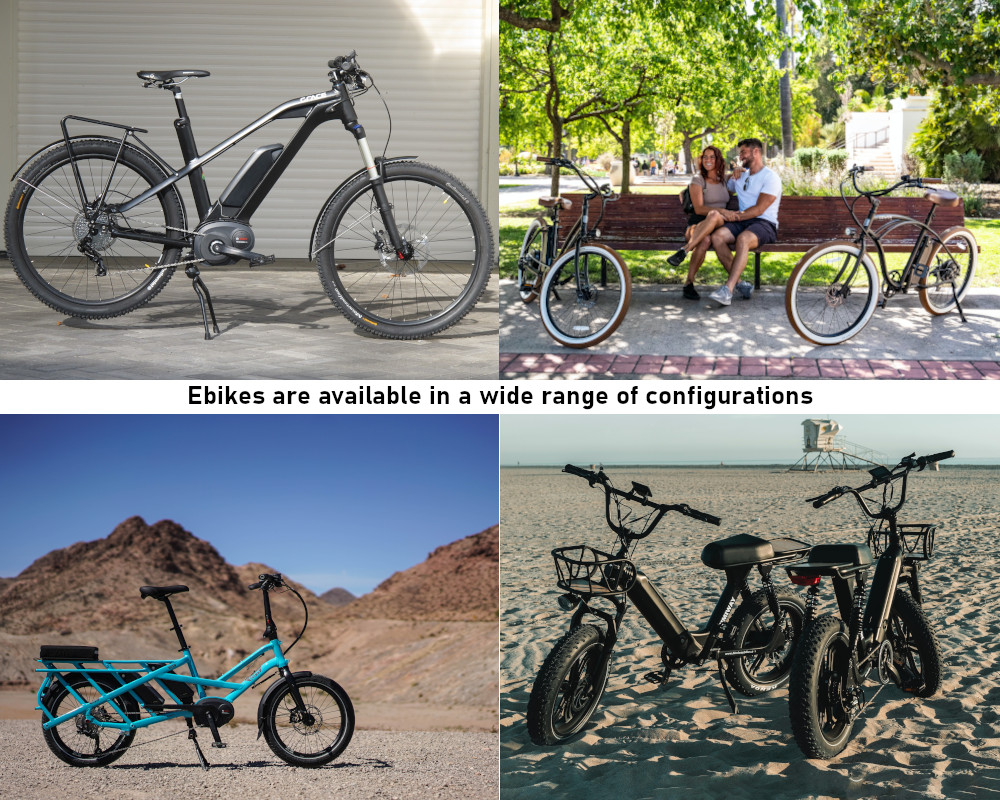 ---
See also: Commuting on an Ebike
And: The World of ebikes – Questions and Answers
---
What Are Some Categories of ebikes?
Some Popular Configurations
Road Ebikes
Probably the biggest selling ebikes at the moment, and available in a host of configurations, with hub motors or mid-drive motors. These are great for commuting and road touring. They tend to be lighter than e-mountain bikes, and depending on the range you are looking for, and the construction materials of the frame, will decide how much you will pay for an ebike that will serve you well.
Electric Mountain Bikes (eMTBs)
Growing greatly in popularity, mountain ebikes (eMTBs) are great off-road, up and down dirty and muddy mountain trails, manoeuvring rough and tumble tracks full of obstacles and challenging terrain. With a great choice of suspension configurations and frames of different materials, the cost of a good eMTB will vary considerably depending on your options and your budget.
Electric Gravel Bikes
Designed specifically for gravel tracks, gravel ebikes are all about speed and efficiency and optimum performance on gravel roads. Similar to road ebikes, but with typically more tire clearance and better performing brakes for conditions of dust and mud, perhaps drop handlebars, designed and refined to do best in the conditions they will be utilised in, an electric gravel bike will give you all the thrills and spills you need to get your adrenaline going.
Fat-Tire Ebikes
With large balloon tires, up to 4 inches wide, fat-tire ebikes are designed to cope easily riding over snow or a sandy beach, though they are well capable of handling the muddiest of treacherous hill tracks. They tend to be heavier and with the greater contact of tire to ground, resistance to movement is also greater. Thrilling to ride, but you will want a powerful motor and a large battery to ensure you don't leave yourself without power with this type of ebike.
Cargo Ebikes
Local companies looking to cut delivery costs, should think long and hard, and consider whether a specially designed cargo ebike would suit their needs better and more efficiently than an expensive company van. Cargo and utility ebikes are pedal powered electric assisted work-horses capable of delivering a heavy load of cargo all around town for the minimal of costs. With a range of options available, many small packet deliveries, or single large deliveries are possible depending on your needs. Think of the savings in vehicle costs, insurance and tax and parking fees.
Folding Ebikes
Handiest mostly for commuters, especially city commuters, a folding ebike can be ridden to the station, folded on the train, and ridden again from the destination station to the office, where it can be folded again and left at the side of a desk or in a handy corner. Most folding ebikes are small wheeled, light, compact when folded, and can be folded and unfolded in a matter of seconds ready for use. For commuters looking to save transport costs, or those living in short of space accommodation, they are an ideal choice.
Still Confused About Ebikes? Take Your Time to Decide
As you can see, the choice of ebike is vast. You can also add to the choice the type of frame you are looking for, typical men's, women's, frame, step-through frame, folding frame, the type and position of the motor, front or rear hub, or mid-drive. The choice seems limitless but goes back to the paragraph above, 'First Use Priority'. Decide that, then decide what type of ebike is best suited, then look at the various options on that style. The range is vast, but I'm sure you'll find something that suits your purpose, within your budget, and will give you immense pleasure and years of service, when you make that final decision.