As I was out for a cycle, cruising the lakeside in the park, gazing at other cyclists as they pass by, it was not hard to notice how many of my fellow cyclists are using electric power to assist them along. In a recent outing, an accurate guesstimate, I thought, was around 15% of riders using an ebike. How accurate this is in reality worldwide is hard to calculate, but it gave me reason enough to assume that ebikes are rapidly increasing in popularity. In a hilly region where I live, this is not hard to deny. Ebike sales are thriving, and more and more cyclists are realising the benefits of having a bit of assistance when they reach that long steep climbing hill.
                "By 2023, the total number of e-bikes in circulation around the world—owned by both consumers and organizations—should reach about 300 million, a 50 percent increase over 2019's 200 million. These 300 million e-bikes will include both privately owned e-bikes and e-bikes available to share." (source p120) 
Why is an Ebike is Easy Exercise?
The fact that an ebike, although frowned upon by some diehard exercise cyclists, offers power assistance to ease the strain, is obviously the most compelling reason to buy one. Especially if you are getting to an age where an everyday lengthy cycle is beginning to become a chore rather than a pleasure. It is a way to continue your exercise regime without totally wearing yourself out. You can always turn the power off until you really need it, therefore, even the diehards must admit that having power is nothing to diminish the ebike rider, rather, it may lead to them staying in the saddle for longer, in cycle ride duration, as well as age.
An Ebike Is No Problem for The Elderly or Physically Impaired
So, for the aging rider, or one who has particular physical problems, like an injury, or arthritic knees, an ebike can assist you to continue cycling for longer.
If a commuter, especially in a hilly region, an ebike can take the sweat out of your daily commute, therefore you arrive at work just as fresh as if you had taken the car, or the bus or train. In cases of heavy urban traffic congested roads, travelling on your ebike may even save you commuting time.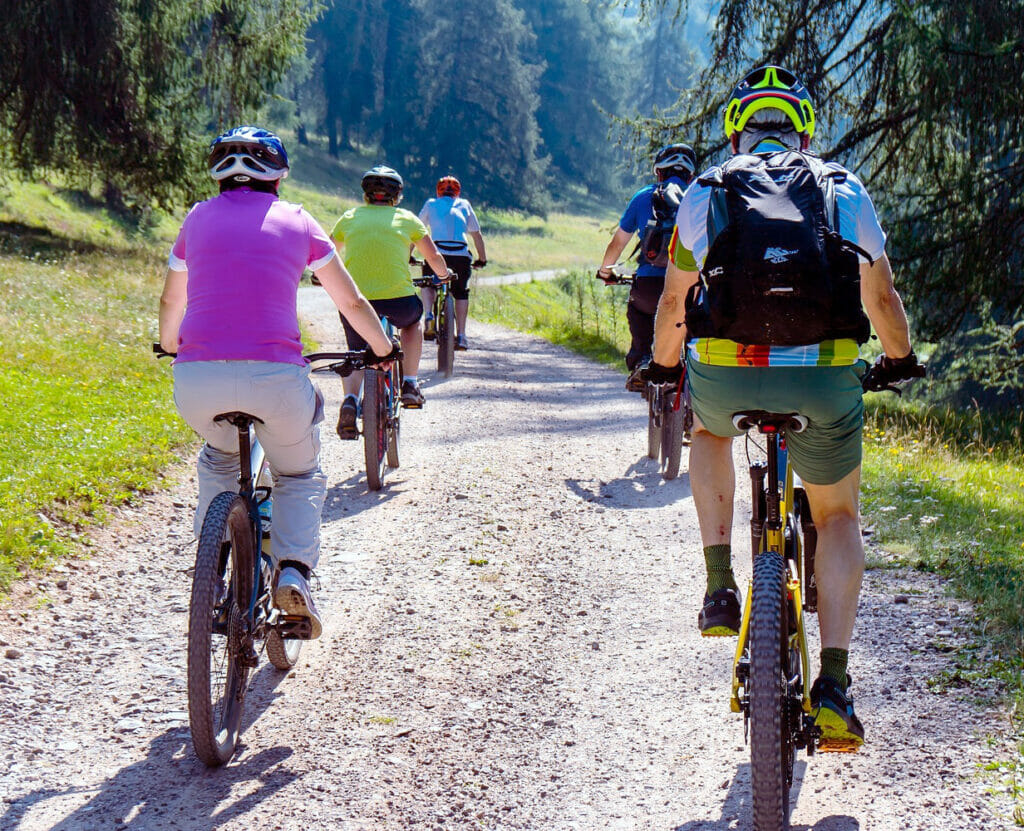 For pleasure, having that ebike, rather than a traditional bicycle, may mean you use it more. No more will windy days, or recurring hills as you travel, hold you back. You may find you are using your ebike more and more, and for other activities, like shopping, and visiting friends, rather than having to hound a neighbourhood looking for a parking space for the car when parking is severely restricted.
---
See also: Ebikes Are Fun
---
Exercise more with an ebike
Inadvertently then, you may find that you actually do more exercise using your ebike – more use, means more exercise, even if the exercise is not as exhausting as force peddling up a steep incline. More, gentle, exercise, will keep you fit without the worry of straining yourself to much and perhaps injuring yourself in the process.
Affordability and Choice
Are Ebikes Affordable?
Ebikes are extremely affordable. A decent ebike can be bought for under a $1000, even cheaper during sale times. You can even convert an existing traditional cycle to an ebike with a conversion kit if you are the handy type and save yourself the cost of a brand new ebike. Depending your reasons for splashing out on an ebike, you may even save a load of money – commuting by ebike rather than car or bus or train, will save you a whole lot. Replacing the car altogether will save you even more when you look at how much running a vehicle costs these days: petrol or diesel, insurance, tax, servicing and repairs, the list goes on and on.
The choice of ebikes is ever-expanding. Whatever your chief reason for wanting an ebike, there is an ebike that is designed specifically for that task, whether you are looking for a road or mountain ebike, a touring cycle, a light weight folding cycle, or a heavy-duty work horse. You will find a model just for you.
Eight Reasons Why You Should Buy an Ebike.
Regular gentle exercise rather than a sinew straining workout.
No more heavy sighing when approaching a steep hill.
No more crying as you cycle into a strong headwind.
You will use it more, so exercise more, so it will keep you fit.
Save money, using an ebike rather than a car or bus or train, will always be cheaper.
You can always adjust the assistance you need: all the power of the motor to the max, or an intermediate setting, or don't use any assistance at all. Decide when and how much assistance you want, according to your journey and level of fitness.
Travel further without worry about the return leg of the journey wearing you out. Longer trips can be taken easily even if it means loading the ebike up with equipment, e.g. tent and camping kit. Weight is not so much of a factor when you have power to help you out.
An ebike is a fun exhilarating piece of equipment to own. Cruising effortlessly on a windy day is a breeze!